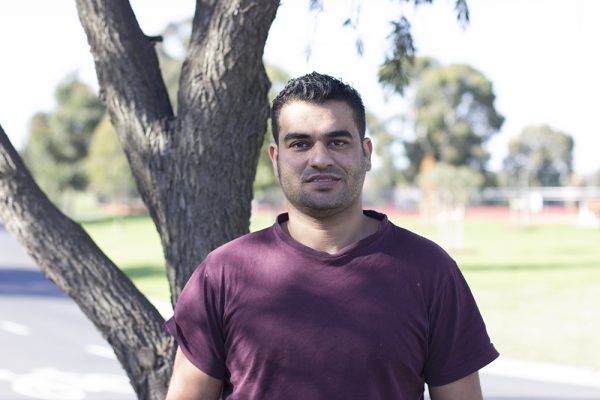 Osama Daragi is the middle of nine children. In 2010, aged 27, he fled Iraq, arriving in Australia by plane, where he spent almost a year in Maribyrnong and Villawood detention centres.
Osama is now a permanent resident of Australia. He lives in Melbourne's northern suburbs, where he works as a mechanic. He spends his spare time working on his own car, in which he hopes to compete in amateur races.
IT WAS SO HARD FOR ME
I'm from Iraq, from the capital city, from Baghdad. I used to be police officer and bodyguard. I was doing two jobs.
I came from big family, four sisters, four brothers. I'm the middle one. The big brother is married and he got a family, but he doesn't live with the other boys because he get a family. And the other sisters and brothers they live in our place, in our house. Mum, she's not working, just at home look after the kids. And Dad he drives a bus around, like, around the states in Iraq. Even he go to other countries by bus to Jordan, to Syria. And he was doing some job with the human rights. He just going some places for the human rights, just going there to have a chat with other people. He's not active all that, but he was going there. But he's not the leader.
My dad is killed by Al Qaeda 2006. He was driving back from Jordan to Iraq, and then they killed him there. My mum she die from cancer in 2011 when I was in detention centre. It was so hard for me.
Actually after 2003 till now, Iraq is in bad situation, when the old government, Sadaam Hussein is gone, like the country is fucked, because some people they get inside the country from I don't know, bombs, killers around, thieves, everything. That's why we leave our country.
I DON'T KNOW ANYTHING ABOUT AUSTRALIA
I leave my country by car, because it's too hard there and I was really in dangerous situation. I went to Turkey. We drive from Baghdad to Turkey, it take us maybe two days to reach Istanbul by car. And we stay in Turkey for, I think it's more than five days. And in Turkey, I meet a guy, he sell the fake passport, Iraqi passport, the visa, they change the picture, they put my picture and then I book a ticket for Australia. It wasn't my choice to go to Australia, but the guy I bought the passport off him, he said this passport you can travel to Australia easy. I don't know anything actually, I don't know anything about Australia.
I ripped the passport in the plane before it's reached the airport, I ripped it and I throw it in the bathroom. And then I got off the airplane with nothing, no ID, nothing.
I was so scared, shocked, I don't know anything. Like my English it was so bad. And then when I arrive to the airport, I walk around for more than four hours, just to hide myself, because I don't know anything. I just try and hide myself about there, like in the toilet for maybe couple of hours. Officers and stuff, I was so scared. I went near to the counter where there some couches, I sit there, and one officer he ask me do you have any passport, ID, I said no.
He said, ok, come with me. I went with him inside interview room. They start to make a – what do you call it – interview with me: what you doing here, how you came here, which plane you came, which country you came from, with an interpreter on the phone. I said I'm Iraqi, I came here as refugees, and then they start to ask me too many questions about my life, what I was doing, why I left my country. It was more than five hours.
I was so scared, even I can't feel my lips, they was shaking all my body. And I was crying, when they start to do the interview with me, I was crying and the officer he said, 'Don't scared, we in Australia we gonna save your life.' They give me biscuit and juice, water. They was so nice.
And at the end they say, we going to send you to the relaxing place, they gonna give you clothes and food and special room. And in my mind I thought they gonna send me to the hotel. I don't know anything about the detention centres.
OH MY GOD, THIS IS REALLY A JAIL
Then I was waiting, and then, two officers from Serco they arrived to the airport and then they took me to the detention centre. No one said detention centre around then, and I was so happy because I thought maybe they going to send me to the hotel, and sharing house, something like that. And when we arrived to the detention centre, I saw the big gate, cameras everywhere, I thought, Oh my god this is really a jail. They took everything off me, my clothes, my shoes, everything. They give me new shirt, new shorts. Then I went inside I saw it is a jail. So I was at Maribyrnong Detention Centre, MIDC.
I saw the big gate, cameras everywhere, I thought, Oh my god this is really a jail.
Click To Tweet
One officer explained to me the rules, for example about the cleaning, rubbish, what time breakfast, what time lunch, what time the dinner. They show me everything around detention, the showers, the restaurant and everything. The next day I wake up I meet some people, Arabic, some of them Iraqis. And they start to ask me where you came from, where, where, where, whatever. And then one of them say, I been here one year in detention, and the other one said I been eight months, and then after that story I get scared because I don't wanna stuck inside detention.
SOMETIMES I GOT NERVOUS
Sometimes they put two or three persons in one room. The rooms were different size. I was sleeping in the small room, because sometimes I don't like to share the room. Because sometimes I got nervous, and I don't wanna hear anything, I wanna be quiet, sleep by myself. Like, in sharing room, maybe the other person he's going out and it annoys you, maybe you doing something wrong, you know. It's too hard, but it's no choice. You have to stay there.
Our group, we was like maybe 10 people, we was speak Arabic. They was the close friends for me. We help each other. Sometimes we play soccer together, sometimes we make Iraqi food. When we sit together, everyone start to talk about himself, what he was doing, where he was working, where he was living, something about that, you know.
The boys they said we got some new friends, Australian friends, they came to visit us. And I said I'd like to come with you, and went to the visit, and I saw all the guys, Caterina, Dana, Louise, Andrew. They start to be in touch with us – they make some games, and sometimes every day they visit us, sometimes weekly, and we start to be close friends, you can say that. We was so happy to make friends. Sometimes they bring some food for us, to all the time we was playing cards, playing games, they teach us some English. They teaching us something about the life in Australia.
HE'S NOT THE PERSON YOU CAME FOR
 Serco were running the security system over there. To be honest with you, some Serco guards they was so rude, because we don't know to speak English.
For example, you came to ask them about some plate, plastic plate, or glass, cups, they was talking like shit to us. But we don't care, because he's not the person you came for, you know what I'm saying. You came to save your life, you don't want to waste your time for nothing, for some person he told you fuck off, or he was laughing for your accent.
But some officers, they was so nice. They was joking with us, and sometimes they bring chocolates for us from their pocket, like as a friend, because we been living together, every single night we saw them, we talk to them. We was watching movies together.
YOU SHOULD GO BACK TO YOUR COUNTRY
The first interview I done, when I was in detention centre, they reject my case. Those interviews, it felt like a court. Actually, you should think about the answers, because when you get nervous, you lose everything. And shocked as well, scared. When you hear the question, you can't answer straight away, you know. You have to think. Because you try to say the truth to get yourself outside the detention.
They told me I was rejected, I said why? Just because of my identity, they said you've got five identities, but with different pictures. But it's same person. Here the face it's a little bit fatty, here, skinny. I said what can I do? I can't make myself for ten years to stay same shape you know. And then the problem was with the interpreter, because they change three times.
Even my lawyer, he told me, 'You should go back to your country'. I said, 'I cannot go back, it's so dangerous'. I said, 'Can I try again?' He said, 'You can but it's too hard to get the visa'. I said, 'Come on man, don't believe that, don't make me feel scared, I can't go back'. I heard some people they get reject, reject, reject, they get stuck inside the detention.
I GOT SICK OF THE DETENTION
Actually, a normal day, in the detention, we like a soldier. Every single morning you wake up, you go in to get your breakfast, you went back to your room to do something, and then you went outside maybe you go to class, English class, or you just walking around the area, and then lunch time. Sometimes we get our lunch inside the kitchen, sometimes we going back to the rooms to have lunch, and then watching TV. Going gym. After that dinner, maybe we watch a movie, or we just call your family or reading book, like nothing else. And sometimes I got sick of the detention, I wouldn't like to talk to anyone, stay in my room for two, three days, and then you think about the situation you are in, you can't do anything, have a shower, go for a walk around there, that's all. Sometimes when you can't breathe, because you're in jail, with nothing, you done nothing wrong, you came to this country to have help, and they push you inside the detention. This is the hard point. Like, to forget you're inside the prison.
If you stare out your room, you think, your mind start to think you are in the detention. But if you waste your time, soccer, or games, or cards, or gym, you get tired, you went to room, sleep. Too many people, they get crazy. If you have a problem, mental health or health problem, just medical centre to give you Panadol.
THEY PUSH US LIKE ANIMALS
I been in MIDC for six months I think, or five months, I'm not too sure and then the Serco they woke us up in the morning, 8 o'clock, and took us to the visitor area, I don't know what's going on. I saw all the people, maybe 51 people. Then the detention centre manager, the big manager, he came to speak to us, he said guys we gonna send you to Sydney. Oh we reject that, because we have nothing there, in Sydney. Melbourne we got some friends to visit us. But Sydney, no way.
We been yelling, shouting, we don't want to go there, we was so upset, so angry, they said no, you should go. There's no place here for you. We was so shocked. Cause we don't know anything about the life here, we don't know anything about the rules. And then they just push us inside the bus to the airport. They push us like animals. And then from the airport to Villawood Detention Centre. I was so upset, I was crying, no one cared about me.
At Villawood, they put me in the place they called Stage One. For the angry people.
Click To Tweet
At Villawood, they put me in the place they called Stage One. For the angry people. It was really messy, really dirty. There's no room, just big hall, and with the double beds.
This area they use it for some people, they were in jail. They were here in Australia working and then they was in jail, and before they send them back to their countries, they put them in detention centre for a little. Hooligans, these people. It's high security, and high fence, with the electric. I was really scared. Everywhere like, 'Hey what you looking at?' They was like serious people, man. And I wasn't done anything, I was just ask why you sent us to Sydney?
I been in Stage One two weeks, and then they sent me to the Villawood Stage Two, the normal. I saw the boys, they give me room. And then all the guys, Caterina, Dana, Louise and Andrew, they came from Melbourne to Sydney to visit us. They start to visit us monthly. We was so happy that they came to visit us again, they friends, real friends. And the life was so hard inside the detention, because you don't know your future, you don't know what's gonna be, what's gonna happen, maybe they gonna push you back to your country, maybe they gonna stuck you in the detention centre. You don't know nothing. And if you try to ask the case manager, he said I don't know anything yet, but it should be fine. But it's nothing happening.
WE SEE THE FIRE
Some people they burn out the detention centre, all the building, fire. They been long time in detention centre with no answers, nothing. Actually they 100 per cent full stress, but they didn't should do that, because that crime, no good man. It was like a huge fire. We was watching movie inside the room, and then we heard shouting. We went outside, we see the fire, and ohhh. All the officers they run away. They locked all the outside gates. We was shocked, what we can do? You can't go nowhere.
We just run to the visitor area. We knock the door for the officers, because they know, they saw everything by cameras, we say just open the door, we wanna go. And then they opened the visitor area for us. An oxygen bottle, it exploded, it was really, really high noise. Like a bomb. We was so scared.
We went to the visitor area, and we sleep there for one week.
IT WAS SUNNY DAY
The date was 6 of October, that's been two days after my birthday. I was sleeping and I hear my name in the speakers, Osama Daragi, Osama Daragi, come to the interview rooms. I went there, I saw one person, who was waiting for me, with the little bag. And I said, I'm Osama, he said, Ok, Osama, you gonna go. Go make your stuff ready, to go outside. I can't believe it and I was running, I tell all my friends I going out and I make my stuff ready. Oh I can't wait. I can't wait, I can't wait. I been so happy to get the permanent residency visa. But same time I been sad because I lost my mum. My mum she just pass away like couple days before.
I called some friends, they was inside with me in detention but released before me, I call them, and then I was waiting from 12 o'clock to the 4 o'clock. Oh my god, I want time to run, it just stuck. And then I was talking with people, I forgot I'm gonna go outside. Then some officers they was looking for me. Osama, Osama, let's go, let's go, outside, outside. Oh my god. And I went outside and I saw my friend, they came to pick me up, I was so happy. Unbelievable man.
He pick me up from the detention, we went to his house, I said I don't want to stay in the house, I want to go out. It was like nice weather. It was sunny day. It was cold, but on that day it was sun with the cold. He drove me to the city, driving around. We parked the car, we go walking around the city. Then we drink some, and then we went to the club and dancing. Same day I called Caterina, I said, I'm outside. Oh my god I was so happy. And then she send me the ticket. Next day morning, I fly to Melbourne.
THEN I START TO LOVE THIS COUNTRY
I meet Caterina at Melbourne airport, she took me to her house, I stay with them I think for maybe, four, five days. After that, Caterina she call Sister Brigid, and then she find the place for me in Albion, next to Sunshine. It's a big sharing house from the Sisters.
My first job, it was at a wreckers. I wasn't paying rent for the Sisters the first three months. I saved money and I bought a car. It's BMW. I had one, in Iraq. If the car worked it was worth more than $6,000. I don't have that money. But I'm a mechanic. I was looking for like a broken car to fix it up for myself, and I find this car for like $1,000, it doesn't work. And then I fix it up.
I find this car for like $1,000, it doesn't work. And then I fix it up.
Click To Tweet
Then I drive my car to Adelaide, to Sydney again, I drive to Queensland. Just to see around. And I fly to Perth as well. Just because I wanna see like all the states, and then I start to love this country, because is my second country. It saved my life. Because when I left my country I was nothing.
Everyone, every single person, he leave his country, like one day he gonna feel homesick and something like that. He miss the earth or the ground he born on it, you know what I'm saying? But it's too hard to live there, because you know the situation there, it's too hard to stay alive. It's war everywhere.
Australia, it's nice country. The nice thing is it's green everywhere, I mean the gardens. And the animals, it's nice animals. Kangaroos.
THEY DON'T KNOW WHO YOU ARE, BUT YOU KNOW YOURSELF
Detention, it's a good thing, and bad thing, same time. The good thing, anybody he arrive in this country with no identity, with nothing, they should put him in detention, they should know where this person came from. Because he's a stranger, like they have to do something about that. But not like this, years in detention, that's so bad. Because you feel, the Australian Government, they don't know who you are, but you know yourself, you haven't done anything wrong. That's why you start stress, because you just came to Australia to cover yourself, to protect.
Osama Daragi told his story to André Dao.