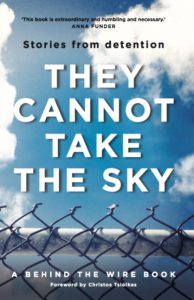 UPCOMING EVENTS
Public conversation in Craigieburn
Monday 9 July, 2018 – Visit the exhibition in at the Hume Global Learning Centre in Craigieburn for a conversation with Aran Mylvaganam, one of They Cannot Take the Sky's designers and narrators.
6 – 7 pm, RSVP to gallery@hume.vic.gov.au
Wednesday 27 June, 2018 – Come to Brunswick Library in Melbourne and hear John Gulzari reflect on some of his experiences seeking asylum, together with Michael Green.
Tuesday 19 June, 2018 – Come to the launch of They Cannot Take the Sky, at the Gee Lee Wik Doleen Gallery, in Craigieburn, Melbourne. Speakers included Aran Mylvaganam from Behind the Wire, and David Manne from Refugee Legal, and food from Tamil Feast.
Friday 17 November, 2017 – Come to Artspace in Woolloomooloo for an evening of live readings, performances and audio stories from Behind the Wire. It will be hosted by poet and performer Hani Abdile, and feature readings by playwright and actor Nakkiah Lui, and a discussion with Michael Green, host of The Messenger podcast.
Melbourne Writers Festival: Protest and Persist
Sunday August 27, 2017 – hear live readings from They Cannot Take the Sky from Aran Mylvaganam, Ali Bakhtiarvandi, John Gulzari, Roj Amedi, Arnold Zable and Vy Wijekumar.
Behind 'Behind the Wire': Sharing new perspectives on mandatory detention
Tuesday August 1, 2017 – Behind the Wire's project co-ordinators André Dao and Michael Green will discuss the ethical and logistical challenges of writing about life in mandatory detention. This event is part of the Refugees and Forced Migration Seminar Series at the Melbourne Social Equity Institute.
1 pm to 2 pm, Melbourne Law School, 185 Pelham Street, Carlton. Free and open to all. Bookings are not required. For further information email social-equity@unimelb.edu.au
A Blue Mountains Literary Event
Saturday July 15, 2017 – Hani Abdile will be in conversation with Angelica Neville, speaking about They Cannot Take the Sky, and her experience being detained on Christmas Island. Bates Hall, Blackheath Community Centre, 2 pm for 2:30 pm start.
Performing Refugee History: Voices from contemporary Australia
Tuesday, March 7, 2017 – Michael Green from Behind the Wire (winner of the 2016 Oral History Victoria Innovation Award) will talk about the opportunities and challenges of recording refugee testimony and presenting it in a range of formats (including podcasts, a museum exhibition, a book and a website). This seminar is part of the Making Public Histories series, now in its tenth year and offered jointly by the Monash University History Program, the History Council of Victoria and the Old Treasury Building.
Tuesday, March 28, 2017 – Mary Crooks, executive director of the Victorian Women's Trust, will talk with André Dao, a co-founder of Behind the Wire, about They Cannot Take the Sky. This urgent and necessary book brings together a collection of first-person narratives from people living inside immigration detention on Manus Island and Nauru.
Direct Line: Manus Island and The Messenger
Thursday March 30, 2017 – Hear directly from Aziz himself (appearing via Skype) at this panel discussion of life on Manus and the making of the podcast. He'll be joined by Behind the Wire's Michael Green, psychologist and former Manus Island health worker John Zammit and Guardian correspondent Ben Doherty. The Wheeler Centre, Melbourne.
Short film screening at Immigration Museum
Saturday, April 22, 2017 – Join us in the theatrette for a screening of short films specially selected by Behind the Wire to compliment the Stories From Detention exhibition: Chauka, please tell us the time; Nowhere Line; The Phoenix; and Peter. Find out more
Human Rights Arts and Film Festival
Saturday, May 6, 2017 – Through audio and video vignettes, several narrators will tell their stories of hope, suffering and resilience. Aran Mylvaganam, Taqi Alizada and Michael Green will then be joined in conversation with journalist Bhakthi Puvanenthiran. The Melba Spiegeltent, Collingwood, Melbourne.
Saturday, May 27, 2017 – Through audio, video and live storytelling, narrators Peter, Lina and Hani Abdile will tell stories of hope, suffering and resilience, followed by a conversation with Hani and Behind the Wire coordinator, Angelica Neville.
Stories From Detention: Kathleen Syme Library
Wednesday, June 21, 2017 – Film screening and conversation. Join John Gulzari for a screening of short films, talks and Q&A.
Kathleen Syme Library, 251 Faraday Street, Carlton, 5:45 pm to 7:30. Free!
Voices from detention: Montmorency Asylum Seekers Support Group
Sunday, June 25, 2017 – Sharing stories from They Cannot Take the Sky. Watch a selection of short films from Behind the Wire. Listen to John Gulzari, who'll speak about his experiences seeking asylum and making a life in Australia.
St Francis Xavier Church Hall, Montmorency, 1:45 for 2 pm start. Free!
Every Tuesday 11 am – 3 pm – Visit the Stories From Detention exhibition on Tuesdays between 11 am and 3 pm and speak directly with some of the people whose stories are featured in the exhibition. This is an opportunity to engage in an open discussion about their experience of being held in immigration detention. You will be able to meet face-to-face, and talk about what their experiences were like in Australia's mandatory detention centres. It will be an informal conversation, but the volunteer narrator will let you know what they are comfortable talking about.