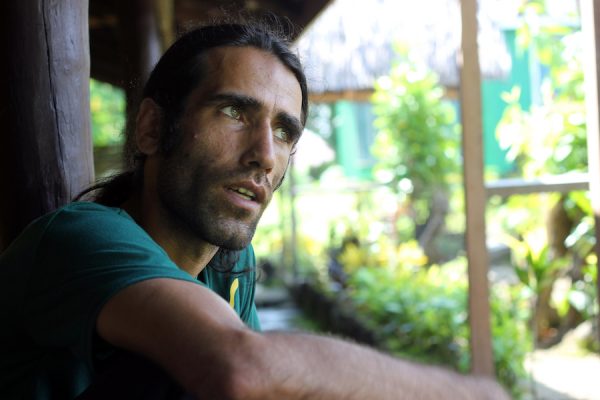 Behrouz Boochani works tirelessly from detention on Manus Island. Every day he wakes, smokes, and begins his job—conducting interviews, updating his Facebook page and Twitter, writing articles or working on his book. He landed on Christmas Island on his birthday, and three years later, still held in detention on Manus Island, he sang this song. 
When I was in Delta prison, my roommate was Kurdish. He wrote this poem on the wall. Everyday I read that poem when I woke up, everyday.
This song I made in Manus prison. I can say that I made this song in the Manus toilets or near the Manus fences. The poem is not by me, the poem is by two Kurdish poets. You know, it describes to a lover, 'You are my lover, you are my eyes. Come with me, sit with me. If you don't come to sit with me, I will kill myself.' It is beautiful. I made about eight songs in Manus prison.
You can listen to this song in Episode 8 of our podcast, The Messenger. The title of Behind the Wire's book, They Cannot Take the Sky, is drawn from a line from Behrouz's story, which opens the collection. Behrouz helped several men in detention on Manus Island tell their stories for this project.
Video production by Michael Green, Skye Hollingsworth and Tom Campbell. Photo by Michael Green.