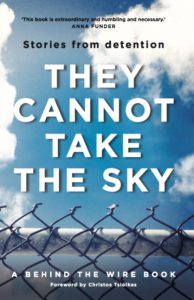 Tuesday, March 7, 2017
Performing Refugee History: Voices from contemporary Australia
Michael Green from Behind the Wire (winner of the 2016 Oral History Victoria Innovation Award) will talk about the opportunities and challenges of recording refugee testimony and presenting it in a range of formats (including podcasts, a museum exhibition, a book and a website). This seminar is part of the Making Public Histories series, now in its tenth year and offered jointly by the Monash University History Program, the History Council of Victoria and the Old Treasury Building.
Old Treasury Building, Spring Street, Melbourne at 6 pm. Free, but bookings essential.
Tuesday, March 28, 2017
Mary Crooks, executive director of the Victorian Women's Trust, will talk with André Dao, a co-founder of Behind the Wire, about They Cannot Take the Sky. This urgent and necessary book brings together a collection of first-person narratives from people living inside immigration detention on Manus Island and Nauru.
Readings Carlton, 309 Lygon Street at 6 pm. Free, but bookings essential.
Thursday March 30, 2017
Direct Line: Manus Island and The Messenger
Hear directly from Aziz himself (appearing via Skype) at this panel discussion of life on Manus and the making of the podcast. He'll be joined by Behind the Wire's Michael Green, psychologist and former Manus Island health worker John Zammit and Guardian correspondent Ben Doherty.
The Wheeler Centre, Melbourne at 6.15 pm. Booked out!