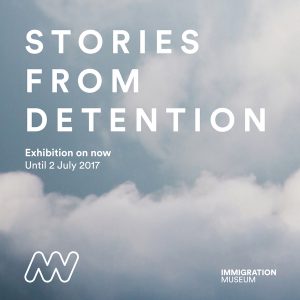 They Cannot Take the Sky: Stories From Detention was held at Melbourne's Immigration Museum from 17 March to 2 July 2017.
Based on the book, the exhibition is made up of dozens of short video and audio stories, in which two-dozen people tell about their journey, their experiences in immigration detention and their life after release—or, for those who remain in offshore detention, their hopes for the future, despite their ongoing incarceration.
The exhibition was directed by a committee of our narrators and other people with lived experience of immigration detention. The exhibition was awarded the Contribution to Multiculturalism by a Community Organisation award at the 2017 Melbourne Awards.
If you know of a public space or institution that may be interested in hosting the exhibition, please contact us.