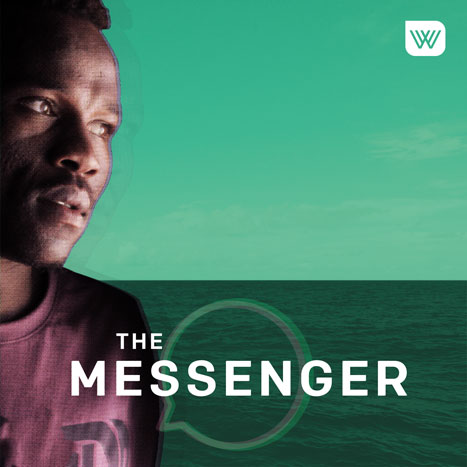 The Messenger is a podcast about Abdul Aziz Muhamat and his life inside the Australian-run immigration detention centre on Manus Island.
Aziz has sent thousands of voice messages to journalist Michael Green. In this podcast series, he tells us how he made it out of Sudan, why he's stuck on Manus Island, and what he hopes for the future.
The podcast won the Grand Award at the 2017 New York Festivals international radio awards. Subscribe to the feed now in iTunes or your favourite podcast app. Or just listen below…  #messengerpodcast
 #1 Aziz, Not a Boat Number
In March 2016, Aziz and Michael first made contact. For more information, including a full transcript, extra links and credits, see The Messenger on the Wheeler Centre website.
#2 I Need to Format My Memory
Aziz begins to paint a picture for Michael of daily life in the detention centre. Where is it, and why is it there? More information about this episode.
#3 I Have Got Some People Waiting For Me
Aziz's life has been a story of chance—and choice. He has been searching for a for a safe place for about eight years. What gives him the ability and the energy to speak out? More information about this episode
#4 Today I'm Really Smiling
A major ruling by the Papua New Guinea Supreme Court offers hope for Aziz – but, amidst the promise, the men receive devastating news from Nauru. Meanwhile, they're encouraged to accept the option to resettle in PNG. So why doesn't Aziz take it? More information about this episode
#5 A Safer Place
Stopping the boats. It's one of the most fraught topics in Australian politics, and most of the time it comes out in two soundbites: saving lives at sea, and securing our borders. In this episode, Aziz tells Michael what it actually feels like to make that journey, and why he made the decision to get on a boat bound for Australia. What was going through his mind? Did he know what he was getting himself into before he stepped onboard? More information about this episode
#6 A New Plan
After months of interviews, Aziz finally sits facing an immigration officer and an interpreter, about to find out whether he's been granted refugee status. But he's too angry to talk about that. What he'd rather know is why he's just spent weeks locked in a jail cell in Lorengau, before being abruptly released without charge. In this episode, Aziz tells Michael about the hunger strike that lead to his imprisonment, and why he continues to pursue big and small acts of resistance – despite the consequences. More information about this episode
#7 A Small Village
Even though Aziz is in detention, far away from both his home and from the country whose government is holding him, he's on his phone all day. He's hyperconnected. But his connection to the outside world is complicated and, despite their constant communication, Michael and Aziz never really get to have a regular, real-time conversation.
In this episode, Aziz observes his third Ramadan inside detention. And, along with many of the men on Manus, the Australian federal election campaign raises Aziz's hopes. Meanwhile, Michael investigates the possibility of travelling to Manus Island. Could they really meet face to face? More information about this episode
#8 Kind of a Dream
It's July 2016. On the morning Michael flies to Manus Island, Aziz leaves the detention centre for the first time in nearly three years. In this episode, Aziz and Michael finally meet in person. Michael also meets some people from Manus Island, who explain how they feel about having the detention centre on their island.
Together with Behrouz Boochani, a Kurdish journalist and detainee, Aziz and Michael take a boat to a nearby island to swim, eat together, and escape the shadow of the detention centre. For Aziz, it's an exhilarating time, full of new experiences and unexpected joys – but he knows it will soon come to an end. More information about this episode