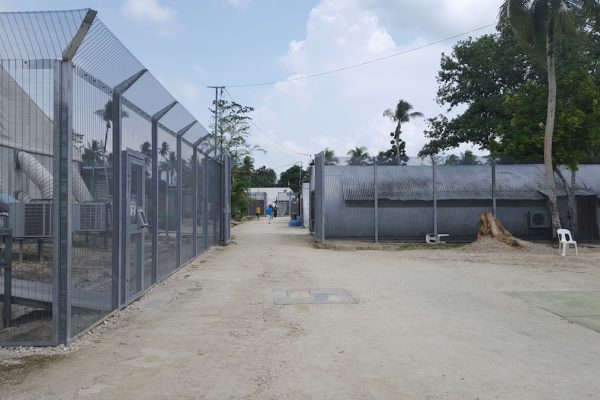 Sirwan Amed lost his sense of present and past as he stood on a football ground outside the detention centre on Manus Island, where he had been evacuated during the riot in February 2014: 'I didn't have any feeling. I was not sure where I was. I was helpless.' 
I DON'T HAVE ANY NATIONALITY
I am Sirwan Amed, I am 28 years old. I lived in Iran, but because I am a Faili Kurd I don't have any nationality. My grandfather was an Iraqi and he was forced to move out of Iraq during the war for political reasons. We lived in Iran after that, but Iran doesn't accept us as Iranian. Iraq doesn't accept us either.
There are a lot of issues. One of these is that we can't get married officially, only within our family. We can study till high school, but not university. I know people paid a lot of money and bribes to finish tertiary education but they don't let many people get higher education. We haven't felt much love and compassion from society.
I left Iran in April or May 2013. While I was in Indonesia we made at least twelve attempts to go to Australia but each time we were stopped by police or people. I had no money to live, so we were homeless—always moving around to find shelter. Sometimes people gave us shelter for some days and they were providing a bit of food too.
I felt I was going to die on the ocean [Silent. Crying.] It is very hard to explain but everybody was crying and praying. Keep in mind we were six days on the sea and it was very stormy and raining most of the time. I can't explain how we were feeling.
I was 29 days on Christmas Island before they forced me to move to Manus. Inside the camp everyone has a special number, not a name. One morning they started calling our numbers and isolating us and saying they were moving us to different cell. The next day, with two security guards for every person, they held our arms and transferred us in an aeroplane to Manus Island.
They held our arms and transferred us in an aeroplane to Manus Island
Click To Tweet
I FEEL BORN AGAIN
It has been 35 months that I have been here. I thought they were taking us somewhere for a couple of months but then they would take us back to Australia. Yes, I was angry. We wanted to stay there but they forced us to come here without doing anything wrong. How long are we going to stay here?
I went to Australia but they forcibly brought me to this island without any documents and it is unknown what will happen to me. Sometimes they tell us to go back to our country, and other times they say that we have to stay in PNG. I feel these fears every day. As someone who has never had a nationality I always ask myself, 'Am I getting where I want to be? A place where I can call home and have my own identity that tells me where am I from?'
After these months in prison I feel born again. Whatever I learned in the past I have recovered it and I comprehend it better. I understand the outside and my life better. People say that if you spend seven years in prison you become more intelligent and educated than a person who graduates with a PhD. You always concentrate, think on yourself. You won't understand me if you haven't spent time in gaol.
It is hard to say but I can definitely say that I have changed. Three years is a long time. I have mixed with people of different ages, ranging from twenty to 60, and as a result I have become more mature, which is a positive change. I have learned a lot.
The hard part is that you share a small area with 300 grown men. For a short time it is possible but for the long term it is hard. Everyone has different expectations. We see the same people 24 hours a day—you must have a lot of patience. Some people look ten years older after these three years. I remember a friend of mine was standing under the rain all night because while he was in prison his girlfriend left him. Love is something very hard.
You won't understand me if you haven't spent time in gaol
Click To Tweet
Sirwan Amed remains in detention on Manus Island. He told his story to Behrouz Boochani in August 2016. At that time he had been in detention for three years. Translation by Ali Ghasemi. Editing by Michael Green.